FINANCIAL SUSTAINABILITY
REVENUE AND OTHER SOURCES OF FUNDS
We have four sources of direct funding: government appropriations for operating and capital expenditures, advertising revenue, subscriber fees, and financing and other income.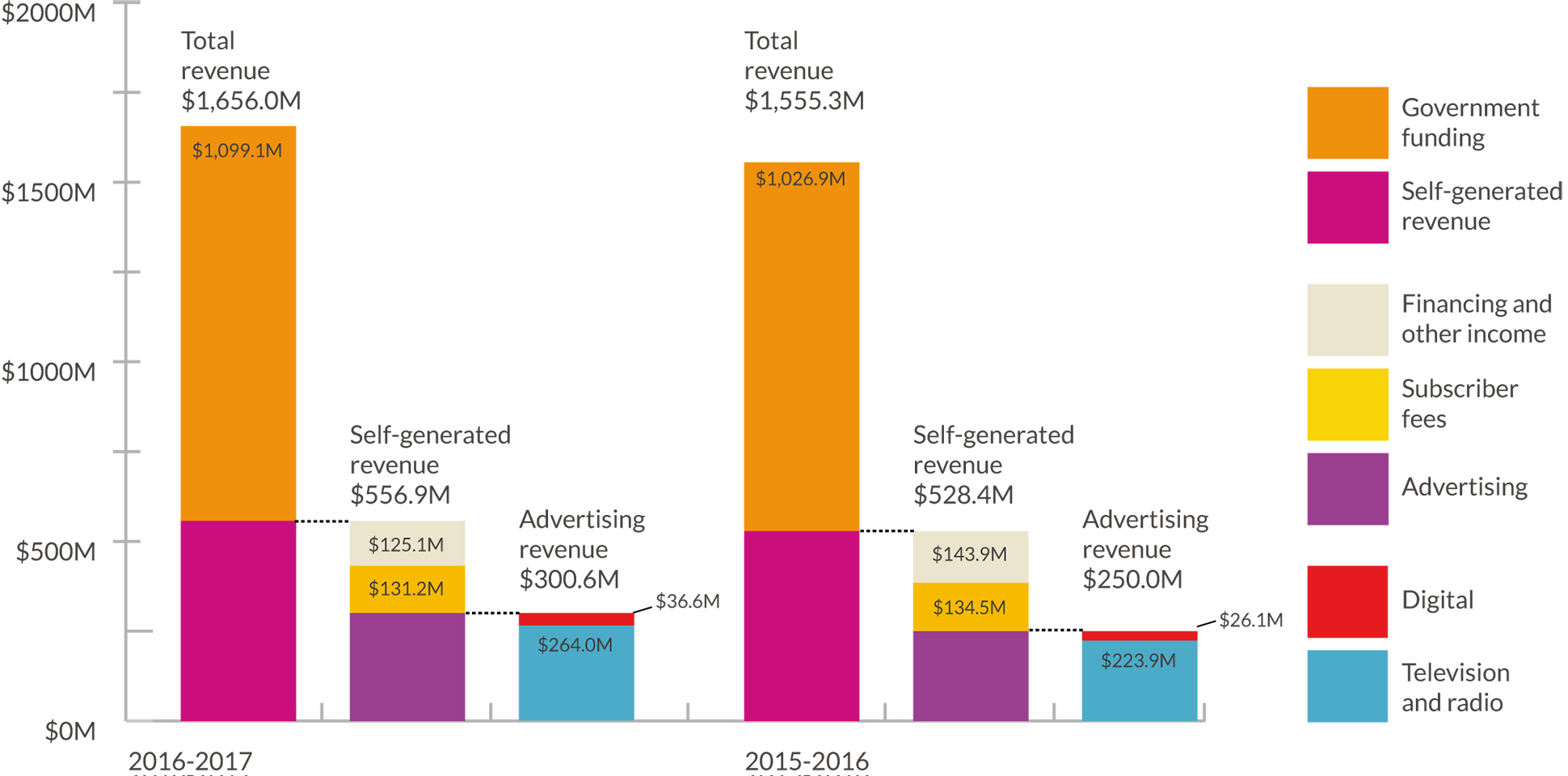 Government funding (66% of sources in 2016-2017): Government funding of $1,099.1 million was recognized during the year, including $92.8 million of amortization of deferred capital funding. In March 2016, the federal government announced an important reinvestment in CBC/Radio-Canada: an additional $75 million in 2016-2017 and $150 million per year thereafter on an ongoing basis. Salary inflation funding is not yet confirmed for 2016-2017.
Advertising revenue (18% of sources in 2016-2017): This includes both ongoing and events-driven sales of advertising on our conventional television channels, specialty television channels and other platforms. Advertising revenue driven by events can have a material impact on the Corporation's self-generated revenue. This year's revenue benefited from our broadcast of the Rio 2016 Olympic Games.
Ongoing advertising revenue is decreasing as a proportion of our self-generated revenue and sources of funds mainly due to the increase in government funding and as a result of the market shift away from conventional advertising platforms. Despite being a rising source of self-generated revenue, digital advertising growth is not significant enough to offset the decline observed in TV advertising.
Subscriber fees (8% of sources in 2016-2017): Fees from our specialty services: CBC News Network, documentary,
ICI EXPLORA, ICI ARTV, ICI RDI, the new ICI TOU.TV EXTRA premium package and Curio.ca. Subscriber fees are experiencing downward pressure from the continuing cord-cutting trend and the effects of recent regulatory changes enacted by the CRTC (affordable basic TV package, small TV packages and pick-and-pay TV channels).
Financing and other income (8% of sources in 2016-2017): Includes both ongoing and events-driven income from activities such as the rental of real estate assets, content sales, leasing of space at our transmission sites, host broadcasting and contributions from the Canada Media Fund.