ABOUT US
OUR OPERATING ENVIRONMENT
The media environment in Canada continues to change. Traditional platforms are facing erosion. Online services are growing, resulting in a variety of new content on various platforms with fragmented audiences. Alternate content providers such as YouTube and Netflix continue to make inroads. Dated broadcast policies are further challenging the Canadian media landscape. In other countries, public broadcasters are facing similar challenges. This past September, when CBC/Radio-Canada played host to more than 60 public broadcasters from around the world for PBI Montreal 2016, it was clear that the challenge of connecting to the digital generation was front and centre for public broadcasters around the globe. Finding the right path to address these changes is a constant challenge for media companies. CBC/Radio-Canada is no exception.
The current broadcasting policy framework is broken
A strong and diverse Canadian broadcasting system is a primary objective of Canada's 1991 Broadcasting Act, which states that "each element of the system must contribute to the creation and presentation of Canadian programming."
However, we now have two different realities in Canada: traditional broadcasters that are closely regulated and that contribute to the Canadian content production industry, and new entrants that operate without those restrictions.
In 2015, the CRTC introduced changes to the traditional regulated system in an attempt to respond to a fast-changing technological environment that has upended the television business model. Through its Let's Talk TV process, the CRTC introduced more choice for television subscribers, lowered Canadian content requirements for private television stations and many specialty services, and eliminated genre protection. At the same time, however, the CRTC has elected not to regulate the broadcasting activities of online content platforms.
In 2016, the government, through the Department of Canadian Heritage, launched a public consultation to develop a modern cultural policy framework centred on strengthening the creation, discovery and export of Canadian content for the digital age.
CBC/Radio-Canada recognizes that the current business model is broken and the cultural policy framework in which we operate needs to be reviewed to address the changing media environment.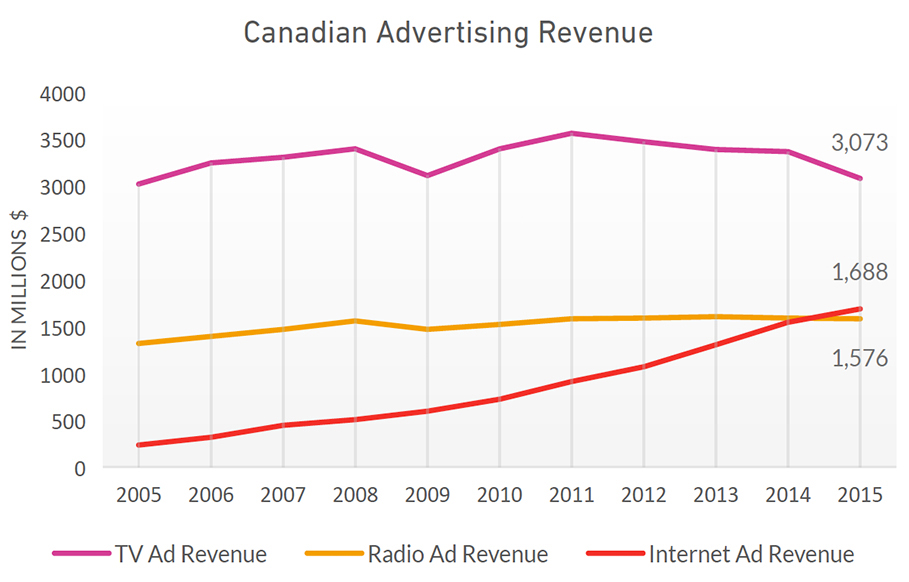 a changing business model
Canada has an opportunity now, as part of the government's consultations on Canadian content in a digital world, to reboot Canadian culture and public broadcasting to benefit all Canadians. The announced reinvestment in CBC/Radio-Canada is an important sign of the government's commitment to Canada's cultural sector and to the value of public broadcasting. The government's reinvestment of $75 million this year, increasing next year to an ongoing $150 million annually, will help contain our funding challenges for a certain period. But it will not solve our problems over the long term. For more information on how this funding will be used, see the Accountability Plan section of this report.
Advertising is one of the major vehicles that support traditional media services. A structural shift is happening as advertisers are increasing their spending online where American digital companies dominate. This poses a significant challenge to traditional broadcasters that continue to offer high-quality programs while the value attributed to these offerings is in decline.
Traditional advertising streams that fund Canadian programs are declining, and those streams are moving to new competitors: large, global companies like Facebook and Google that have established dominant positions in the Canadian market yet are not required to contribute to support the system.
our vision for the future
Last spring, the federal government asked Canadians for their views on how to strengthen Canadian culture in a digital world.
Canadians from across the country participated through online surveys, roundtables, and submissions. In November 2016, we provided our thoughts on how to strengthen Canadian culture, with a proposal that can anchor a modern culture policy framework and place broadcasting at the centre of a strong culture sector. The proposal contains three key recommendations:
Canada should develop its own cohesive culture investment strategy; one that engages all of the country's creators and creative industries;
Remove advertising from all of our platforms, so an ad-free CBC/Radio-Canada can focus on long-term cultural impact rather than short-term commercial return. To do this, there would be an increase in per person funding to CBC/Radio-Canada to $46 – an increase of $12 per Canadian annually; and
Depoliticize CBC/Radio-Canada funding so that it is predictable and stable, tied to the existing five-year licence cycle, indexed to inflation, and separated from the election and annual government budget cycles.
The full submission is available to the public on our corporate website.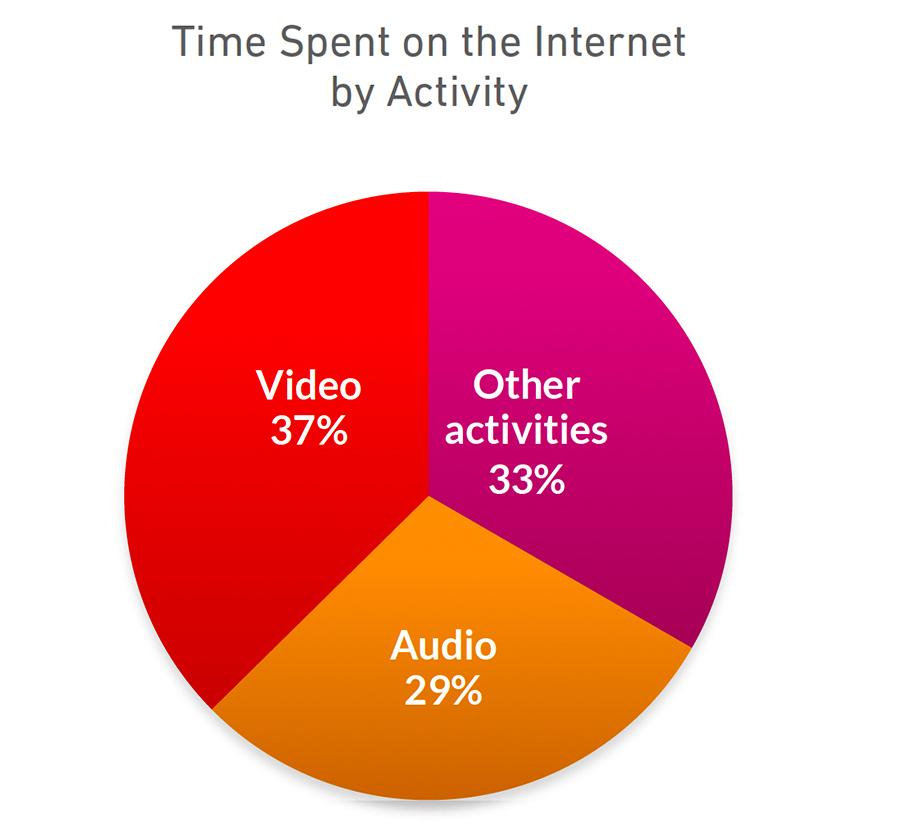 content demand is as strong as ever, but consumption is shifting platforms
We are witnessing an upheaval in the way media is being consumed. It is not a change in Canadians' appetite for content, rather, it's the platforms of preference and the manner in which the audiences consume content that's changing.
Traditional media platforms still attract the vast majority of audiences, yet more and more viewers are now using the Internet to watch television, particularly in the English market. In the French market, however, broadcast television remains strong. Despite these market differences, and audiences that are in decline, traditional media will continue to remain significant for the foreseeable future.
Canadians now spend over 20 hours per week with the Internet. While not all online activities are media-related, two thirds of self-reported time spent is on audio or video activities, such as services like YouTube, Facebook, Netflix or the many other audio and video services that provide attractive alternatives to traditional media offerings.
Additionally, consumers continue to adopt devices and services that give them more control over when they access content and on which screen. Mobile devices are driving growth in this area.
Understanding how Canadians are accessing content is key to providers' future success. There is extensive online content (including new original content) available to subscribers and in direct competition with traditional services. This is not only increasing content availability, but creating challenges for discoverability. To maintain relevance in this environment, content needs to be available to Canadians how, when and where they want it. The challenge remains balancing innovation while not leaving behind those using more traditional platforms.
cbc/radio-canada: finding its place
CBC/Radio-Canada offers a large variety of services to Canadians. Operating in both official languages and eight Indigenous languages, with radio, television and digital platforms, CBC/Radio-Canada services are extensive and available to Canadians wherever, however and whenever they want.
Canada has one of the most integrated media markets in the world, with most big players involved in virtually all aspects of the media value chain. As highlighted in the chart below, we are a small player within a large Canadian Telecom and Media market:
And moving to the digital environment, the Internet opens a range of new, bigger and more disruptive competitors. These companies are global giants such as Facebook and Google. They can leverage resources across multiple markets to develop economies of scale far beyond our borders.
81%
OF CANADIANS BELIEVE IT IS VERY IMPORTANT FOR CANADA TO HAVE A PUBLIC BROADCASTER LIKE CBC/RADIO‑CANADA.
72%
OF CANADIANS STRONGLY AGREE THAT THERE IS A CLEAR NEED AND ROLE FOR CBC/RADIO‑CANADA IN THE FUTURE.
The public broadcaster is a major partner for the Canadian independent production sector – our television, radio and digital services reach 84% of Canadians on a monthly basis. We are a Canadian leader in digital with one of the most-visited websites in Canada. Four of five (81%) Canadians believe that it's very important for Canada to have a public broadcaster, and over seven in ten (72%) strongly agree that there is a clear need and role for CBC/Radio-Canada in the future.(1)
CBC/Radio-Canada has worked – and will continue to work – hard to address these changes in consumption, to engage more deeply with our audiences and to deliver our content to Canadians in new ways to meet their needs. We are looking more and more to partnerships with domestic and international players to allow Canadians and international audiences greater access to CBC/Radio-Canada. This way of working will also help us be more financially sustainable.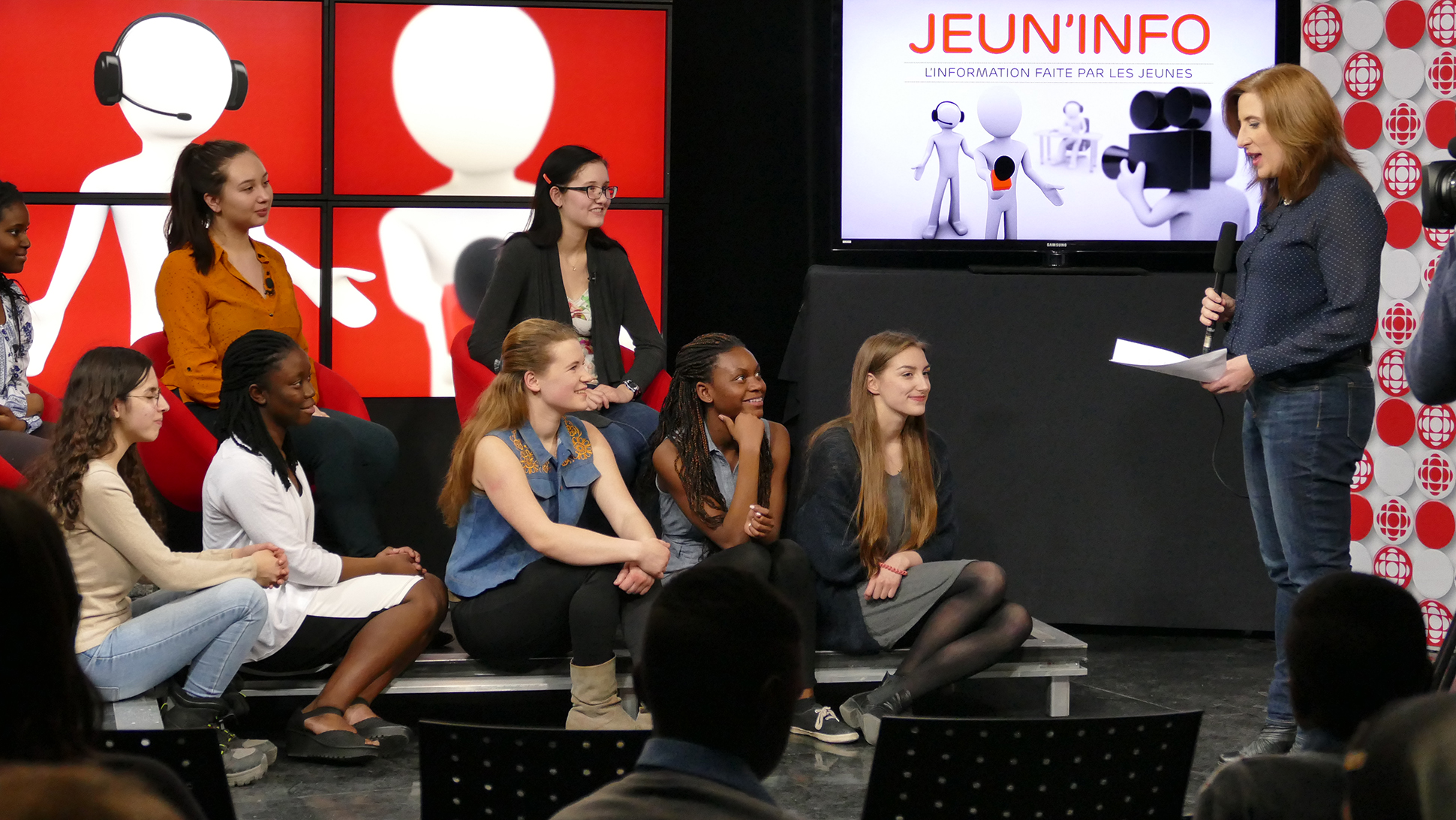 (1)Source: Mission Metrics Survey, 2016-2017, TNS Canada (1,000 Anglophones and 1,000 Francophones per survey). Surveys are conducted in fall and spring of each year. Scored 8, 9 or 10 on a 10-point scale. When looking at scores 6 to 10 on a 10-point scale, we get 88% for important for Canada and 84% for a clear need and role in the future.