Accountability Plan
Our Performance - MEDIA LINES
English services highlights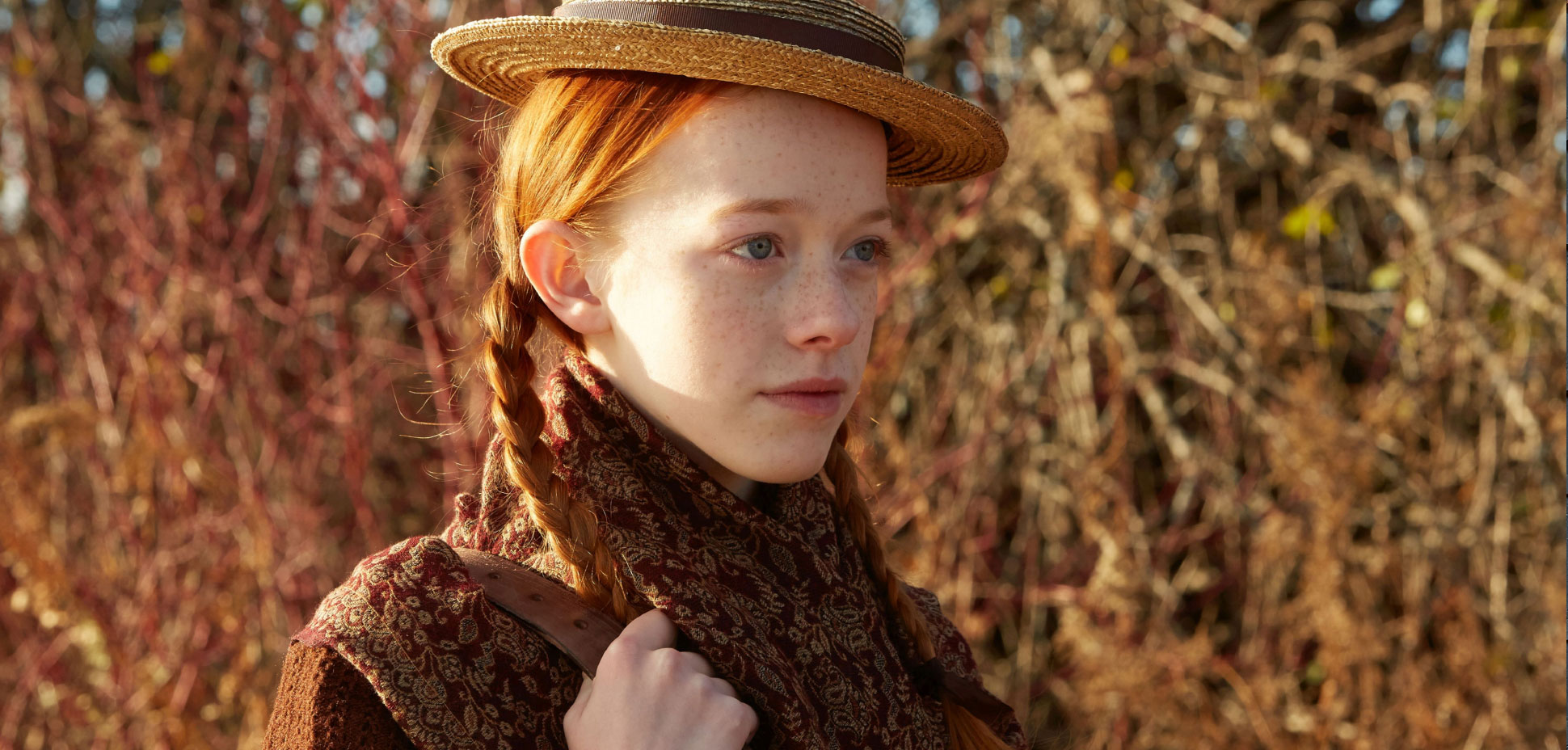 CBC's Anne, starring Amybeth McNulty.
We use Media Lines reporting to measure performance against our operational targets, which mostly focus on audience reach and share through our various platforms and self-generated revenue across all our services.
In 2016-2017, we continued our strategy to transform and modernize the role of the public broadcaster: investing in distinctly Canadian content, deepening our connection with the communities we serve and building on our strong digital focus all while ensuring our financial sustainability.
UNIQUE and DISTINCTIVE CANADIAN PROGRAMMING
Almost one in three Canadians tuned into The Tragically Hip concert in August 2016.
CBC Television introduced a slate of new programs that were both popular with audiences and received critical acclaim: Kim's Convenience, Pure, Workin' Moms, Baroness Von Sketch, Secret Path, This is High School, Keeping Canada Safe and Anne – all high-calibre productions and authentic Canadian storytelling.
It was another big year for multi-platform signature event programming with the Rio 2016 Olympics becoming the most-watched Summer Olympic Games in Canadian history and the unforgettable The Tragically Hip: A National Celebration, which was watched by more than 11.7 million Canadians on television, online or at community screenings across the country.(1) Other notable events include our New Year's Eve 2017 celebrations, Canada Reads, the Scotiabank Giller Prize, the Canadian Country Music Awards, the Canadian Screen Awards and programming around Canada's 150th anniversary, including a new collaboration with Radio-Canada to launch the web portal for Canada 2017, which began this year and will continue through July 2017.
We continued to showcase under-represented voices and talent, with women now directing 50% of our top scripted programs. We also furthered our commitment to diversity by introducing the Breaking Barriers Film Fund, which supports the production of feature films by women, Indigenous peoples, persons with disabilities and visible minorities. Three films have already been selected: Meditation Park, written by Mina Shum, Angelique's Isle, written by Michelle Derosier, and Octavio Is Dead!, written by Sook-Yin Lee.
CBC Radio refreshed the CBC Radio One schedule with new shows and reduced repeats with the addition of new original summer programming. CBC Music began re-investing in live musical performances, showcased Canada's music talent at the CBC Music Festival, conducted the national talent search CBC Music Searchlight, and engaged listeners with the Canadian Music Class Challenge, JUNOfest and the Polaris Music Prize. q was relaunched this year, with new host Tom Power and a renewed focus on music.
By purposefully building diversity and inclusion into all programs, we are enhancing our reflection of the diversity of Canada, especially through shows like Unreserved, Out in the Open and Marvin's Room.
CBC News provided leading coverage of key Canadian news events, from the Fort McMurray wildfires to regional elections in Saskatchewan, Manitoba and the Yukon. New international pocket bureaus were opened in Moscow and Istanbul, allowing us to cover important international stories from a uniquely Canadian perspective. In our news programming, we achieved greater breadth and originality in content, including on broadcast, original-to-digital and interactive platforms (e.g. Face to Face with the Prime Minister). To further this evolution, CBC News will be re-organized around what matters most – the stories we tell and the audience we serve – with four pillars built around: daily news, investigative journalism, audience engagement, and depth, context and analysis.
DIGITAL AND MULTIPLATFORM
Digital creates momentum.

This year, we launched the CBC video player and original digital series like The Amazing Gayl Pile.
On our digital platforms, we focused on improving loyalty and retention through our content offer and engaging user experiences. We introduced a new Arts Feed and relaunched our Comedy Feed to add to our existing Lifestyle Feed and documentaries, as well as a new digital video player with more long-form TV experiences. Original digital series like The Amazing Gayl Pile and My 90-Year-Old Roommate have developed large online followings.
New original podcasts helped us maintain our leadership in original audio content, with the popular Someone Knows Something podcast peaking at 21 million downloads. In all, CBC Radio hit 145 million podcast downloads last year, and select CBC Radio One and CBC Radio Two stations launched as streams on the new Radioplayer Canada app, extending the availability of our audio services.
CBC Radio also debuted Highway of Tears, CBC's first virtual reality (VR) documentary on Missing and Murdered Indigenous Women, which combined emerging technology with CBC's strong journalism and community town hall events to create a first-of-its-kind VR exploration of a compelling and important story.
Finally, CBC Music continues to innovate in its digital music functionality and personalization, making it a sought-after place of discovery for Canadian music content online. In collaboration with Radio-Canada, we also launched an integrated back-end music platform, which allowed us to expand the service to be a richer and more fully functional experience.
LOCAL
CBC continued to implement our local, digital-first programming strategy and to reinvest in local services where we now offer local news online, seven days a week, including programming tailored to different parts of the day. As a result, we're seeing growth in digital consumption of local programming and content.
Finally, we announced a new London (Ontario) radio and digital station that recently opened and became the home for Southwestern Ontario's afternoon drive radio show.
ENGLISH SERVICES 2016-2017 RESULTS
Our performance metrics are evolving as the media industry continues to undergo a digital transformation. Canadians consume media content on multiple devices (e.g. smartphones, tablets, smart TVs) from an ever growing array of content providers. As media consumption habits change, audience measurement suppliers and the Corporation are refining methodologies and introducing new measurement technologies to ensure the accuracy and completeness of data gathered. Since some of these data are used to measure our strategic and operational performance, we may be required to make adjustments to targets and historical results to enhance comparability of the data.
CBC Television – CBC TV audience share ended the year below target due to weaker programming performance in the fall (especially in the early weeks when Sports and News audiences were particularly high) and the December holiday period. There was an upward trend in share performance this winter, driven by success of new and returning series including Pure, Schitt's Creek, Murdoch Mysteries and Anne.
CBC News Network (CBCNN) – It was a strong year for CBC News Network, with results exceeding target, largely due to high-profile events of national and international interest such as the coverage of the Fort McMurray wildfire in spring 2016 and the US Presidential election.
Regional: TV supper news – Audience levels for the TV local 6pm news were just below target and lower than last year's results.
Regional digital content – Favourable results in digital regional content when compared to target and prior year's results reflected the success of our new local digital-first strategy, including comprehensive local news output and programming tailored to specific parts of the day.
Digital – We saw a strong performance on the digital front with the number of monthly average unique visitors continuing to outperform prior year's results and target, and with much of the success attributed to new digital content and resource enhancements enabling a new online video player, a new CBCMusic.ca site and app, and a new live and on-demand audio service.
Revenue – Results exceeded target due to strong digital advertising and subscriber revenue.
(1) Source: Numeris, Portable People Meter (PPM), persons aged two years and older.
(2) Source: Numeris, fall survey (diary), persons aged 12 years and older. Morning show: Monday-Friday, 6:00-8:30 AM.
(3) In Fall 2016, Numeris introduced a change in its survey methodology by offering respondents the option to report their radio listening hours with an online diary instead of a traditional paper diary. Numeris recognizes that this methodological enhancement has significantly affected results in the Anglophone markets. Therefore, results for 2016-2017 are not comparable to our targets or prior year figures. As a result of this methodology change, this measure is being replaced by new indicators that use the Numeris Portable People Meter (PPM). Targets for 2017-2018 using these new indicators are included above.
(4) Source: Numeris, Portable People Meter (PPM), persons aged two years and older, in the Toronto, Vancouver, Calgary, Edmonton and Montreal-Anglophone markets. Local Morning Shows Monday-Friday 6:00-8:30am.
(5) Source: Numeris, Portable People Meter (PPM), persons aged two years and older.
(6) Source: comScore Media Metrix, unique visitors, desktops (aged two years and older) and mobile devices (aged 18 years and older), April to March. In 2015-2016, the CBC.ca regional offering measure was desktop only.
(7) In 2015-2016, the CBC.ca regional offering measure was desktop only.
(8) Source: comScore Media Metrix, unique visitors, desktops (aged two years and older) and mobile devices (aged 18 years and older), April to March.
(9) Not published due to competitive reasons.
(10) Includes advertising revenue, subscription revenue and other revenue (e.g. content distribution). Excludes revenue from arrangements with Rogers Communications Inc. for the continued airing of Hockey Night in Canada for Saturday night and playoff hockey. Toronto 2015 Pan Am Games revenue included in prior year results reflects joint English and French Services revenue. As of 2017-2018, revenue will include the Olympics.