Pierre Gingras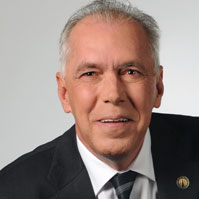 Pierre Gingras
Blainville
Pierre Gingras was appointed to the CBC/Radio-Canada Board of Directors effective February 3, 2011, for a five-year term.
Mr. Gingras was previously a member of the Quebec National Assembly for the electoral district of Blainville. In this capacity, he chaired the official opposition caucus and was opposition critic for transportation. Prior to being elected MNA, Mr. Gingras was a Blainville city councillor for four years before going on to serve a 12-year term as mayor. He founded and led the Parti de l'action civique de Blainville. At the time he entered municipal politics, he was commissioner of the Sainte-Thérèse school board and, before that, worked in the printing industry.
Over the course of his career, Mr. Gingras has also acted as chair of the Laurentides Regional Development Council, as a board member of the MRC Thérèse-De Blainville and as board member and treasurer of the Union of Quebec Municipalities (UMQ). Mr. Gingras currently sits on the board of the Amicale des anciens parlementaires du Québec. Active in the community, he has been a member and vice-president of youth services with the Blainville Optimist Club, chair of the Carrefour action municipale et famille and has held a number of positions with the World Family Organization.