Terrence Anthony Leier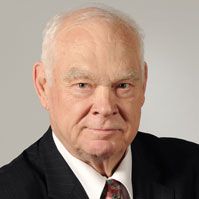 Terrence Anthony Leier
Regina
Terrence Anthony Leier was appointed to the Board of Directors of CBC/Radio-Canada on May 31, 2012, for a five-year term.
Mr. Leier currently practices law in Regina, Saskatchewan, where he specializes in a range of business and government relations activities. Before opening his own private practice in 1991, Mr. Leier had been the Senior Vice-President and General Counsel at the Crown Management Board of Saskatchewan since 1982. Prior to that, he was with the City of Regina Solicitor's Office, overseeing many of the city's significant growth and development initiatives for more than a decade. He began his career as a Naval Lieutenant for the Royal Canadian Navy Reserve.
Mr. Leier received his Bachelor of Arts (1962) and his Bachelor of Law (1966) degrees from the University of Saskatchewan. He was admitted to the Law Society of Saskatchewan in 1966. In 1990, Mr. Leier completed executive development studies at the Stanford Graduate School of Business, Stanford University.
.