STRATEGIC DIRECTIONS: YEAR IN REVIEW
Strategy 2015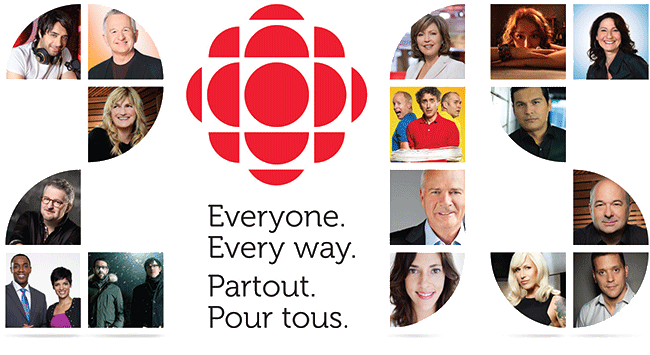 ACHIEVING OUR PLAN'S OBJECTIVES
Over the last year our two main networks,
English Services and French Services continued to implement a wide range of projects relating to our five-year strategic plan, 2015: Everyone, Every way.
The plan has three key thrusts:
More distinctly Canadian: network programming and national public spaces

More regional: regional presence and community spaces

More digital: new platforms and digital spaces
Overall, we were successful in reaching our objectives for the year.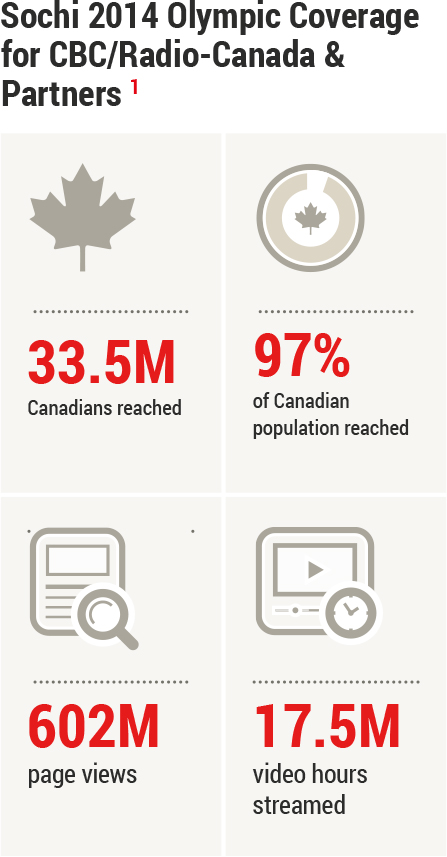 More distinctly Canadian: network programming and national public spaces
During 2013—2014, we continued to produce new, high-quality and distinctly Canadian content that explores the unique identities woven into our wider Canadian culture. For example, CBC/Radio-Canada produced 19 signature events, which are events of significant meaning to Canadians, delivered on multiple platforms.
The largest of these was the Sochi 2014 Olympic Winter Games, a collaboration between French and English Services that reached approximately 33.5 million Canadians, or 97% of the population. We aired a combined 1,653 hours of Olympic programming in English and French across both networks and our distribution partners, and more than 2.5 million people downloaded our Olympic Apps1.
In the spring of 2013, Radio-Canada helped introduce more Canadians to francophone literature with the Prix des lecteurs Radio-Canada 2013. In November 2013, CBC broadcasted the 20th anniversary of the Scotiabank Giller Prize, which showcases excellence in Canadian literature, on CBC Television. The event was live-streamed on cbcbooks.ca and highlighted across our social media channels.
CBC Television continued to "Canadianize" its prime-time schedule in 2013—2014, with enhanced Canadian content throughout the year.
More regional: regional presence and community spaces
This year, we continued to pursue programming opportunities to enrich our regional presence across the country.
Radio-Canada strengthened its regional roots by introducing local on-air personalities to anchor many morning and late-afternoon flagship programs on our radio and TV platforms. In September 2013, we opened the
ICI Gaspésie-Îles-de-la-Madeleine Broadcast Centre in Matane, Quebec. Then, in October 2013, we launched new weekend editions of Le téléjournal, a 30-minute newscast on Saturday and Sunday evenings, in Eastern Quebec and Ontario.
Other initiatives took us right into the heart of Canadian Francophone communities. In September, we held a public meeting in Windsor, Ontario that highlighted the return of the French radio morning show, new integrated radio newscasts and a new
30-minute weekend television newscast in Ontario. The meeting was also a forum for answering questions and interacting with 150 members of Windsor's Francophone community.
CBC also continued to add local services to its offering. Sunday late night television news expanded to 30 minutes each week in Calgary, Edmonton, Toronto, Ottawa, and Montreal. Those locations, plus Vancouver, also added a new one-hour weekly program, focusing on local interests and activities. In Windsor, the Monday to Friday supper hour news expanded to 90 minutes. Meanwhile, on CBC Radio One, Saskatoon Morning began over-the-air and digital broadcasts to serve the
Saskatchewan market.
While our regional presence is of paramount importance to us, we had to cancel our future regional expansion plans, including a radio station planned for London, Ontario as part of Budget 2014—2015 announcements. However, we remain focused on the regions and will protect our existing footprint to keep delivering programming that originates from and reflects the whole of
our country.
More digital: new platforms and digital spaces
We made progress this year on the Strategy 2015 priority of increasingly engaging with Canadians through digital platforms.
For example, in October 2013, we launched Curio.ca, a CBC and Radio-Canada collaboration. This web portal allows school instructors at all levels — elementary, secondary and post-secondary — to stream, for a nominal subscription fee, relevant video and audio content in classrooms to support their teaching.
Our music platforms reached further into the digital realm, beginning in May 2013, when our six channels distributed on
Sirius Satellite Radio also became available to XM Satellite Radio subscribers.
We also revamped several targeted websites. Radio-Canada International (RCI) was re-launched as a digital-only platform, RCInet.ca, in April 2013. A new section of the site, Aboriginal Peoples: the Other Story, went live in the fall of 2013. Meanwhile, ICI EXPLORA became available on Bell TV.
CBC is continually expanding its multiplatform offering. Increasingly we use social voting, "second screen" apps that enhance viewers' television viewing experience, and various means of interacting and engaging with audiences for shows such as
Battle of the Blades, Canada Reads, Heartland, and the Sochi 2014 Olympic Winter Games.
The Next Strategic Plan Beyond 2015
Through our current plan, Strategy 2015, we are working to meet the evolving needs of Canadians by becoming more Canadian, more regional and more digital. As we chart our next strategic plan that will take us to 2020, we will continue to be guided by these principles. However, as we saw with the balancing of Budget 2014—2015, we will not be able to fully protect all elements of the Strategy 2015 priorities. Our next strategic plan will continue the changes that began with Budget 2014—2015, the details of which are available here on our corporate website.
While our next strategic plan will build on the successes of its predecessor, it must also address our relevance to Canadians in the broader term, including how we relate to our audiences and how we become their public broadcaster of tomorrow. The plan must also allow us to be flexible enough to adjust our direction if required, given the near certainty that we will need to address changing revenues and evolving technologies in the future.