Financial Highlights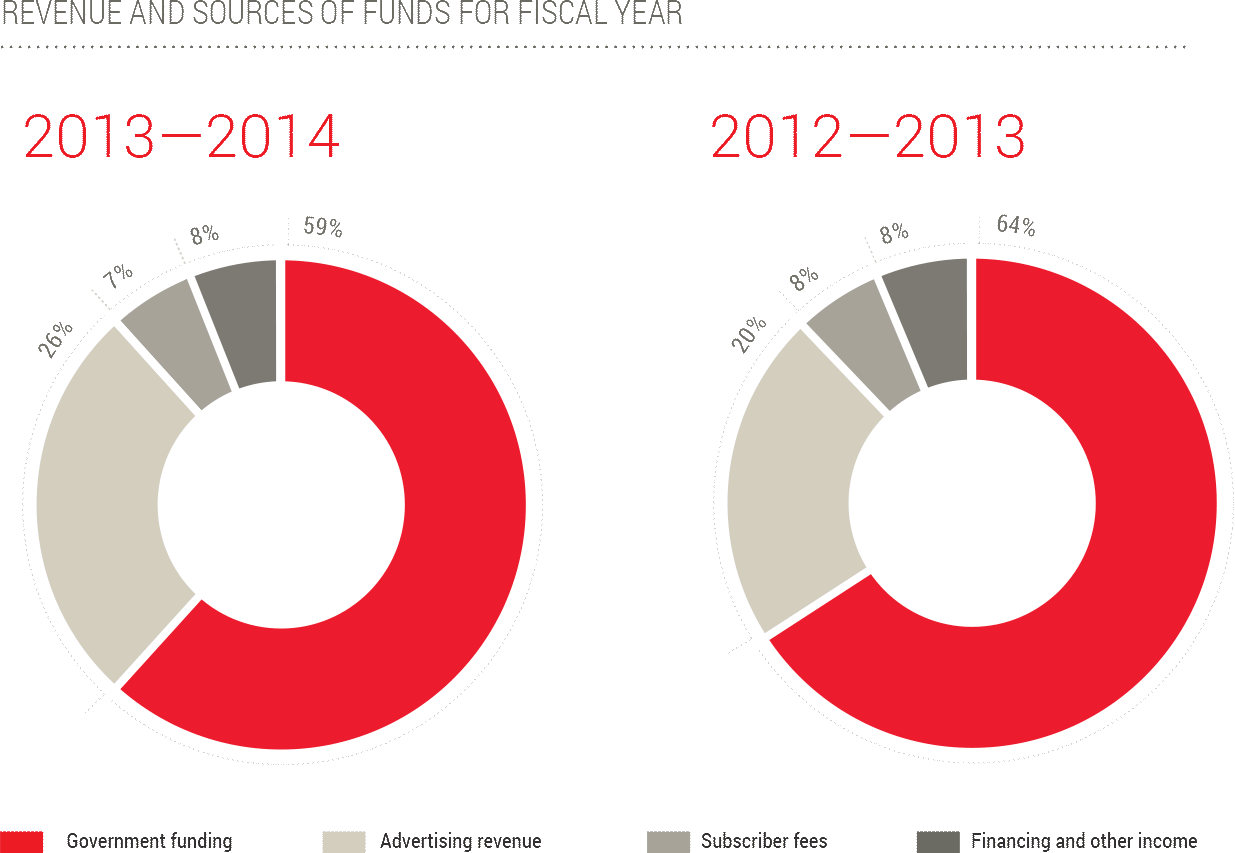 (in thousands of Canadian dollars)
For the year ended March 31
Revenue
767,830
646,065
18.8
Expenses
(1,873,717)
(1,870,963)
0.1
Government funding
1,090,898
1,154,850
(5.5)
Results before non-operating items
(14,989)
(70,048)
(78.6)
Net results for the year
(17,953)
(50,972)
(64.8)
Results on a current operating basis2
46,429
216
N/M
Results under IFRS and on a Current Operating Basis
Changes in net results under IFRS and on a Current Operating Basis were primarily due to the following:
Revenue increased by $121.8 million, largely due to higher advertising revenue from our coverage of the Sochi 2014 Olympic Winter Games. This year's revenue also included advertising from broadcasting a complete season of Hockey Night in Canada (HNIC) after last year's NHL lockout. This revenue increase was somewhat offset by a weaker advertising market.
Our overall expenses were comparable to last year while producing a larger number of significant events, including a full season of HNIC and the Sochi 2014 Winter Olympics. This was possible because of our successful cost management initiatives.

Government funding recognized for accounting purposes was $64.0 million lower this year, reflecting decreases in both government appropriations received and capital funding recognized in income as a result of the shutdown of our analogue TV assets.

Results on a Current Operating Basis for the year were $46.4 million. This excludes items that do not generate or require funds from operations, the most significant being $58.8 million charged for non-cash pension expense. Further details reconciling net results to Results on a Current Operating Basis are provided in section 4.1 of this report.