People and Leadership
Our people are a key priority and in 2013—2014, we continued to implement our three-year strategic plan focused on enabling and accompanying our people to lead and support the ongoing changes within CBC/Radio-Canada.
Workforce Profile
As of March 2014, CBC/Radio-Canada employed a total of 8,150 full-time equivalent employees (FTEs), of whom 6,985 are permanent, 325 are temporary and 840 are contract.

Under the Employment Equity Act, CBC/Radio-Canada is committed to providing equal employment opportunities to the four designated groups: women, Aboriginal peoples, persons with disabilities and members of visible minority groups.
As of March 31, 2014, women made up 46.7% of permanent employees, Aboriginal peoples 1.6%, persons with disabilities 1.8% and visible minorities 8.2%.
Workforce Adjustment
The financial pressures faced by the Corporation in 2012—2013 continued to have an impact on our workforce in 2013—2014. In April 2012, as a result of Federal Budget 2012, we announced that up to 650 full-time equivalent positions would be eliminated over three years, with one-time spending required to cover severance packages.
To date, 570 positions have been eliminated, with the remaining 80 to occur in 2014—2015. Severance required for these will also be drawn from the one-time spending.
In April 2014, CBC/Radio-Canada announced its 2014—2015 budget. Due to financial challenges (as highlighted in the
Corporate Year in Review section), to balance the budget we will need to cut $130 million and the equivalent of 657 full-time positions from across the Corporation. These cuts will be implemented over the next two years.
Update on the Joint Committee Process as of March 31, 2014
The joint committee process involves unions and management from CBC/Radio-Canada working together to minimize the impact on people affected by workforce adjustments. The focus is to place qualified individuals into suitable positions according to the rights in their respective collective agreements, and to keep the number of involuntary layoffs as low as possible. The joint committees' work is complete as it relates to Federal Budget 2012 reductions.
Employee Support
CBC/Radio-Canada employees continue to receive support through the Employee Assistance Program (EAP). EAP offers a variety of services including confidential counselling for staff, their families and eligible former staff. EAP also delivers wellness initiatives with the support of nearly 200 volunteers in CBC/Radio-Canada locations across the country. CBC/Radio-Canada's 2013—2014 year-end EAP utilization rate was 15.7% (1,417 cases, including employees, retirees and family members), demonstrating confidence in the program.
In 2013, Respect in the Workplace workshops were launched nationally as a joint union-management initiative through the Working Group on Employee Health Care. More than 830 employees participated in one of the 64 three-hour workshops held across the country. The Respect workshop initiative is intended to respond to feedback received in last year's Dialogue employee survey, which was a wide-ranging survey to gauge the perceptions of our staff about working at CBC/Radio-Canada, and to help employees work better together. It is an important part of our activities to positively influence the well-being of CBC/Radio-Canada and its people. It reinforces the respectful behaviours set out in our Code of Conduct and in our collective agreements.
Employee Development
This fiscal year, the People & Culture team worked on a foundation of strategic learning and development support for major change initiatives in technology, journalism and multiplatform service delivery. They also worked to create a more unified approach to development and change initiatives that will be relevant across the whole Corporation. Below is an indicator of the training dollars per employee for the past five years.
In the latter part of the year, the team focused on creating the Corporation's three-year talent development strategy. They also began preparatory groundwork for the kind of support that would be required by staff and management during the major structural changes, across all services, that would result from the budget announcements for 2014—2015.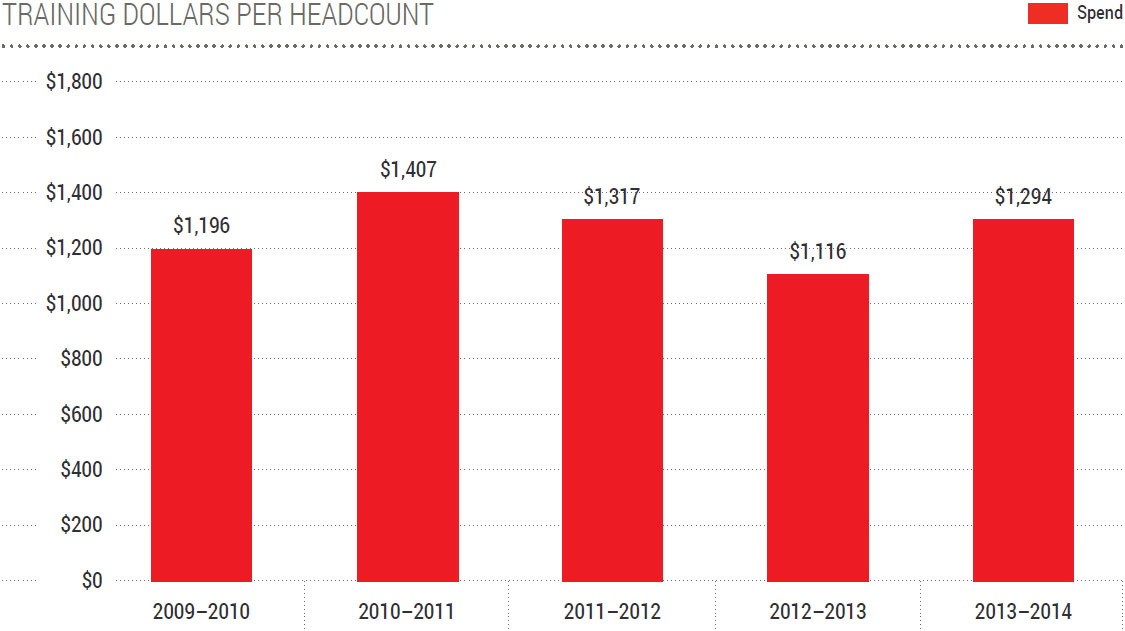 Retention Rate
While the Corporation continued its downsizing exercise following the announcement of reductions in 2012, the overall retention rate of permanent employees remained high.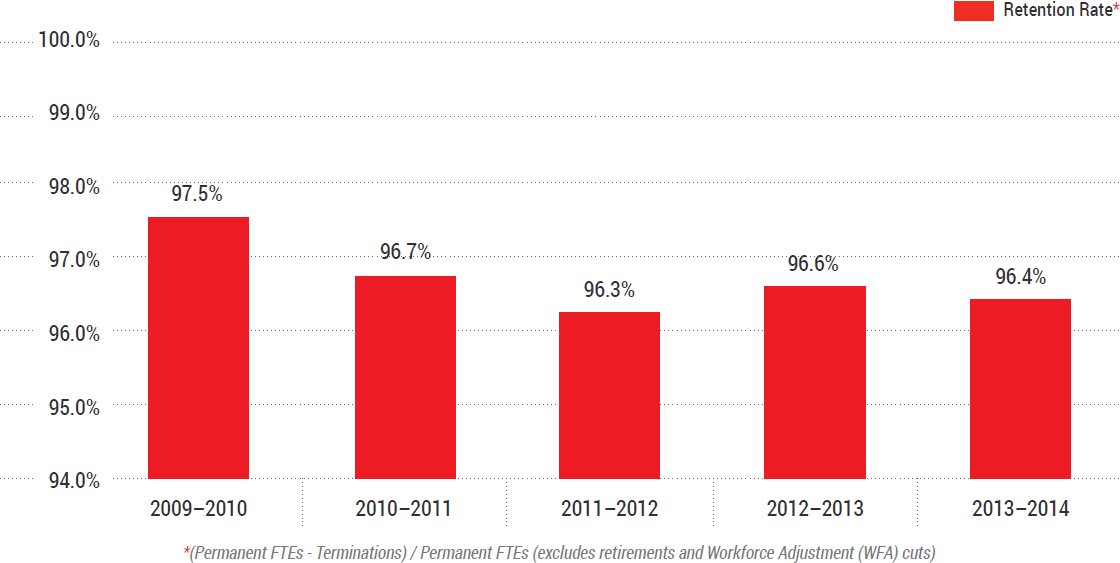 Inclusion and Diversity
Accountability
We continued with the implementation of our Inclusion and Diversity Corporate Plan 2012—2015, launched in June 2012. This plan focuses on removing employment barriers and expanding our pool of candidates for the four designated employment equity groups (Aboriginal peoples, persons with disabilities, visible minorities and women).
Employment Equity Questionnaire
A national joint union-management communication campaign was launched to increase employee awareness of our employment equity self-identification through our Cultural Census questionnaire. As of March 9, 2014, our response rate was tracking at 79%. To improve this number, we plan additional targeted activities.
HELP Fund
Every year, we invite managers to apply to the $175,000 Help Energize Local Projects (HELP) Fund. The fund helps managers reach their hiring targets of recruiting and retaining diverse candidates by allocating funding for internships, development opportunities and workplace accommodations.
Labour Relations and Talent Agreements
In 2013—2014, CBC/Radio-Canada renewed our collective agreements with the Association of Professionals and Supervisors (APS) from July 1, 2013 to June 30, 2016; the Writers Guild of Canada (WGC) from September 1, 2014 to August 31, 2016; and the Canadian Media Guild (CMG) from April 1, 2014 to March 31, 2019. We also extended our collective agreement with The Alliance of Canadian Cinema, Television and Radio Artists (ACTRA) until June 30, 2014. We continue ongoing negotiations towards a new collective agreement with the Canadian Federation of Musicians.
CBC/Radio-Canada renewed our collective agreements with the Union des Artistes (UDA) from May 27, 2013 to November 14, 2015 and with the Association des réalisateurs (AR) from December 16, 2013 to December 15, 2014.
In May 2012, CBC/Radio-Canada filed an application with the Canada Industrial Relations Board (CIRB) to review the bargaining structure for employees working in the province of Quebec and in Moncton, New Brunswick. The subsequent hearings took place throughout the 2013—2014 fiscal year and are now complete. The CIRB has taken this matter under advisement and a decision is expected during 2014—2015.
Challenge Us! 2013
Challenge Us! is an event that enables employees from different levels and sectors from across the Corporation to delve into and make recommendations on issues that matter deeply to our future success. The 2013 edition of Challenge Us! was held between April 16-17, 2013, in Montreal. In the past, this event helped to pave the way for a culture of dialogue. This year, Challenge Us! was used to initiate and catalyze change, and the results were incorporated into the preparation surrounding our next strategic plan for beyond 2015.
Employee Awards
In the fifth year of the President's Awards, staff were once again able to recognize excellence across the Corporation. These awards are based on the President & CEO's three priorities: people, programs and pushing forward. In 2012, we received 169 nominations for 16 awards — four more awards than last year. This brings us to almost 900 nominations in total since the awards were first introduced in 2009. In addition to local winners in Montreal, the President took the opportunity to congratulate the remaining winners and present their awards in person during business visits to Rimouski, Matane, Regina, Saskatoon, Toronto and Ottawa this year.
Changes to the Board of Directors
There were three appointments to the CBC/Radio-Canada Board of Directors in 2013—2014. Brian Mitchell was appointed to his second five-year term, while Marlie Oden and Cecil Hawkins were both appointed to five-year terms. The five-year term of Patricia McIver expired this year and Vivian Bercovici resigned her position.
Changes in Executive Management
In September 2013, Heather Conway was announced as the new Executive Vice-President of English Services. Ms. Conway joined CBC/Radio-Canada with an extensive record of experience and results across the public and private sectors, and provides a fresh perspective during the Corporation's time of challenge and change.