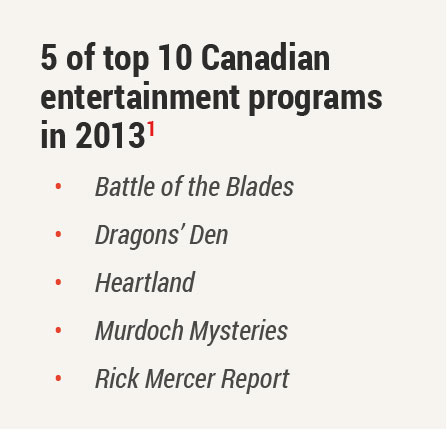 More distinctly Canadian: delivering on Canadian programming
CBC continued to offer a wide range of choices this year for high quality and distinctively Canadian programming across our numerous multimedia platforms.
CBC Television aired five of the top 10 Canadian entertainment programs (excluding News, Sports and Specials) during the regular season, as in the previous year. In addition, CBC programs with more than one million viewers (2+ year-old demographic) included Battle of the Blades, Dragons' Den, Hockey Night in Canada and Murdoch Mysteries. Favorites such as This Hours Has 22 Minutes, Heartland and Marketplace also attracted significant audiences during the regular season1.
On CBC Radio, CBC Radio One and CBC Radio 2 achieved a combined all-time high fall share of 15.5%. On its own CBC Radio One achieved an all-time high fall share of 12.5%2, and 25 of 26 CBC Radio One local morning shows ranked in the top three in their respective markets. CBC Radio 2 had a 3.1% share, its second highest since programming changes on this service were introduced in 2008.
CBC News continued to provide high-quality, original journalism on all platforms. We covered national and international events of importance to Canadians, ranging from the Lac-Megantic rail disaster, to weather emergencies in Alberta and Ontario, and the international celebration of Nelson Mandela's life and legacy. In addition, CBC News provided analysis and insight through multiplatform pieces investigating pipeline incidents, train derailments, homegrown terrorism, Canadian hospitals' performance through Rate my hospital report card, and international tax havens.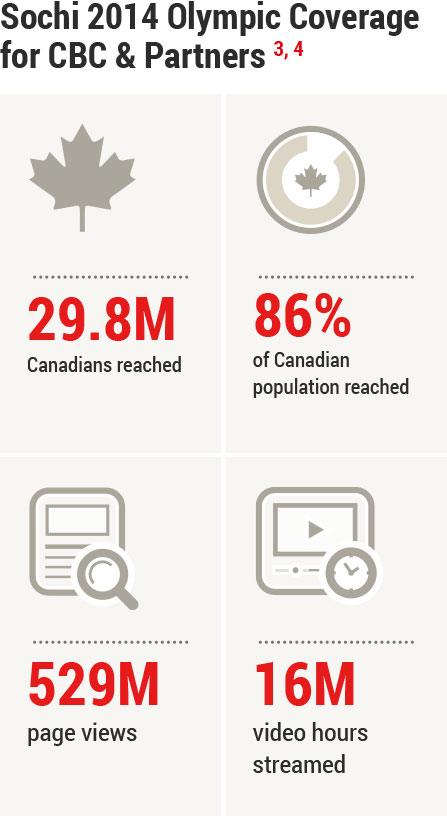 Of the signature events offered by CBC, the largest was the Sochi 2014 Olympic Winter Games, a joint CBC/Radio-Canada programming special. CBC alone reached 29.8 million Canadians, 86% of the population3, with our English-language programming. Audiences watched a per-viewer average of 15.5 hours of television, radio and digital content throughout the Games. CBC also had more than 529 million page views on the website and app, and served 16 million hours of
streamed video content4.
Other CBC signature events in 2013—2014 included Canada Day programming
(Live from Parliament Hill and Canada Day in the Capital), the Canadian Screen Awards, the Scotiabank Giller Prize, the Canadian Country Music Awards, and Wild Canada, a four-part special that was the largest natural history survey of Canada
in a generation.
CBC continued to connect with and reflect the Aboriginal community. For example, the revamped CBC News/Aboriginal section of CBC.ca aims to develop a digital community that better engages diverse Aboriginal audiences across the country, and is a resource and catalyst for Aboriginal coverage at CBC. Other examples range from CBC Saskatchewan's September 2013 hosting of the all-Aboriginal business challenge, The Boom Box, to our continued sponsorship of the annual Film and
Media Arts Festival imagineNATIVE, and our in-depth coverage of the stories shared during the final public hearing of the Truth and Reconciliation Commission
this past March.
More regional: growing our regional presence
As discussed in the Strategic Directions section of this report, two significant local initiatives this year were the expansion of Sunday Late Night local television newscasts to 30 minutes in major markets; and the introduction of the Saskatoon Morning local radio and digital program in Saskatchewan.
We also launched six, hour-long, local weekly television programs across the country: Our Vancouver, Our Calgary, Our Edmonton, Our Toronto, Our Ottawa and Our Montreal. These programs bring audiences news and information on regional and local stories of interest, as well as stories from other content units such as CBC News, CBC Music, cbcbooks.ca and our archives.
Two recently introduced local morning shows, part of our Local Service Extension initiative, demonstrate the success of our local strategy. Daybreak Kamloops earned the highest ranking in its market by increasing its market share from 14.6% to 25.3% in one year5. The Morning Edition in Kitchener-Waterloo achieved the second-highest ranking in its market during its first year, with a 9.4% share5.
Both CBC Television and CBC Radio continued to produce a significant amount of programming across Canada for each national network, contributing to numerous local economies. From Heartland, Mr. D, This Hour Has 22 Minutes and Republic of Doyle on television, to The 180, The Irrelevant Show, C'est la Vie and Vinyl Café on radio, regional production is a major part of our national network programming.
More digital: extending our digital reach
CBC.ca continues to increase the number of monthly unique visitors to our site, growing by 13 percentage points in 2013—2014 compared to the previous year. This increase is still 10 percentage points, even when February's unusually high results, mostly driven by the Olympics, are excluded (See section Operational Indicators).
This year we introduced several digital innovations. Wild Canada's app for iPad, iPhone and iPod Touch featured lush,
high-impact HD video and photography, 360° panoramas, immersive soundscapes, fly-throughs, interactive infographics and exclusive material.
CBC continued its leadership in web voting (as opposed to telephone voting) as a means of audience participation. For example, Recipe to Riches' trivia app companion to its television broadcast allowed the audience to accumulate voting points by answering trivia questions. On Battle of the Blades, we partnered with social media companies such as Facebook, to bring interaction to the show's viewers in real time.
CBC advanced its "second screen" viewing experiences with the Heartland companion app, allowing users to watch PVR-recorded episodes, as well as exclusive content (such as an interactive map, extended content, behind-the-scenes clips and trivia game) that was live-synced to the broadcast.
In the digital audio realm, the Canada Reads 2014 digital experience amplified the broadcast, in an immediate and powerful way, through the use of live streaming, video clips, and social media to attract and connect with audiences across desktop and laptop, tablet and mobile devices.
The website Blood: The Stuff of Life offered a vivid visual narrative using parallax technology for this year's CBC Massey Lectures by Lawrence Hill. Viewers were able to scroll through striking imagery, listen to audio segments from lectures, watch live panel debates and participate in online chats around specific themes.