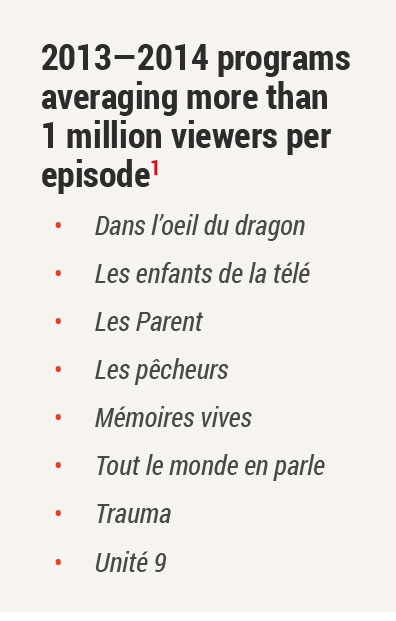 More distinctive: delivering quality, innovative and engaging content
In 2013—2014, Radio-Canada continued to support top talent in the French-language television industry (producers, screenwriters, directors, actors, etc.) to deliver high-calibre and distinctly Canadian programming.
Numerous ICI Radio-Canada Télé hit shows once again drew over one million viewers per episode. Unité 9 continued its strong success, averaging 2.0 million weekly viewers in 2013—2014, compared to 1.8 million in 2012—20131.
The year-end comedy event Bye Bye 2013 broke its 2012 record with 5.3 million Canadians watching its original broadcast and repeat the following evening. It captured an 88% market share on New Year's Eve, similar to the share achieved in 2012 (89%1).
ICI Radio-Canada Télé's new offerings included the comedy show Les pêcheurs (drawing over one million viewers in its first season1) and an updated Friday night line-up devoted to celebrating music in a family setting with C'est ma toune and
Le choc des générations. The network also continued to be a unique driver for creativity, innovation, and the use of new technologies, leveraging the interactive and social networking potential of shows such as Qu'est-ce qu'on mange pour souper? and Série Noire.
On radio, ICI Radio-Canada Première and ICI Musique2 achieved record market shares throughout the year3, partly as a result of focusing on building a closer relationship with our audiences. The revamped morning and drive-home shows across the
ICI Radio-Canada Première network clearly reflect this new positioning, which strives to be bold, inquisitive, diverse and
people-focused.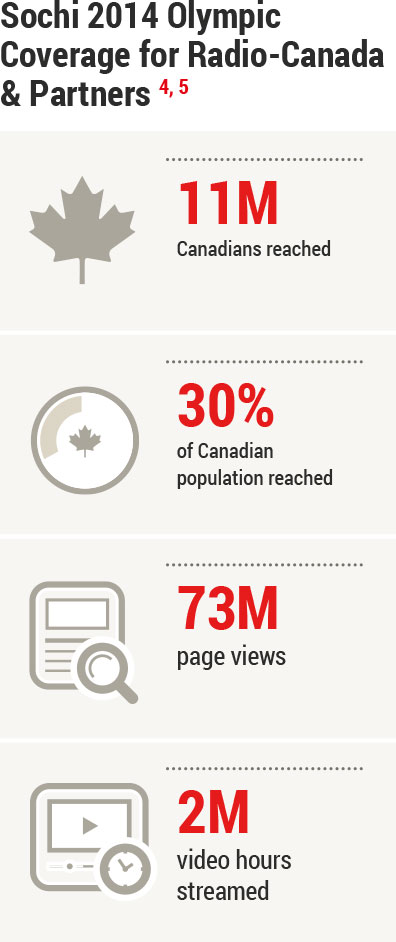 Radio-Canada continued to keep its strategic commitment to engaging Canadians by delivering high-quality, multiplatform signature events (events of significant meaning to Canadians delivered on multiple platforms), including the 50th anniversary of Montreal's Place des Arts, 1 000 jours pour la planète and Le bossu symphonique (in partnership with storyteller Fred Pellerin and the Orchestre symphonique de Montréal). The year's highlight Signature Event was the Sochi 2014 Olympic Winter Games, produced together with CBC. Thanks to an unprecedented multiplatform offering from Radio-Canada and its Francophone partners, 30% of Canadians enjoyed Olympic content in French between February 6 and 23, 2014. Our games-specific digital platforms (website and mobile apps) generated 11.6 million visits, 43% of which came from mobile apps4. Meanwhile, more than 95% of the francophone population in Québec watched the Winter Olympics on ICI Radio-Canada Télé5. Coverage of the Sochi 2014 Paralympic Winter Games followed on ICI Radio-Canada Télé and the web, from March 7 to 16, 2014.
Radio-Canada participates in cultural life across the country, connecting closely with regional communities through programming tailored to the needs of its audiences. For example, Black History Month and the first annual Auditions de la diversité in February 2014 showcased the culture, history and talent of Canada's ethnic communities. Also, Rendez-vous de la Francophonie in March 2014 reached Canada's French-speaking communities through initiatives such as Histoires collectives (a group writing contest for young Canadians in partnership with the Association canadienne d'éducation de langue française).
Radio-Canada also continues to broadcast content about and for Aboriginal communities. ICI Musique developed a special microsite on new Aboriginal music for the Mundial Montréal 2013 multicultural music festival; ICI Radio-Canada.ca produced the in-depth feature Autochtones: hier, aujourd'hui, demain; RCInet.ca launched the Aboriginal Peoples: The Other Story web platform; and ICI Radio-Canada Première extended its agreement allowing the broadcast of its national and international newscasts on radio stations affiliated with the Société de communication
Atikamekw-Montagnais (SOCAM).
More regional: enhancing our presence
In 2013—2014, Radio-Canada's various broadcast centres continued to give the regions a strong presence on the
ICI Radio-Canada Télé network. Eight stations contributed their expertise to the news magazine Tout le monde en parlait, producing nearly ten new episodes for broadcast in spring/summer 2013. Les chefs!, produced by the Quebec City station, averaged the highest ratings of all French-language shows in the summer 2013 prime-time slot6. In the summer of 2013, ICI ARTV's weekly arts magazine, ARTVstudio, worked more closely with Radio-Canada's regional stations, bringing viewers the latest in arts and entertainment news from coast to coast to coast.
Radio-Canada strengthened its regional roots by investing in regional morning and late-afternoon slots on TV and radio, introducing local on-air personalities to anchor many flagship programs: Marie-France Bazzo in Greater Montreal, Marie-Pier Roy Carbonneau in Estrie, Karine Godin and Janique LeBlanc in Acadia, and Mathieu Nadon in Ottawa-Gatineau.
In news and current affairs, Radio-Canada continued rolling out its seven-days-a-week news offering by adding weekend
Le Téléjournal newscasts in Ontario and Eastern Quebec. Drawing on fully multiplatform regional teams, we now provide more comprehensive coverage of Canada's top stories. For example, the small ICI Estrie team, which was first on the scene at the Lac-Mégantic tragedy in July 2013 and was first to provide the world with footage, was also gearing up to cover the Sherbrooke 2013 Canada Summer Games in August.
During the Quebec municipal and provincial elections, Radio-Canada delivered an innovative and unparalleled multiplatform offering. The teams from ICI Radio-Canada Télé, ICI RDI and ICI Radio-Canada Première went out in the field to talk to voters in special editions of popular programs. ICI Radio-Canada.ca and its mobile apps offered digital content (interactive results maps and candidate lists, web reports, etc.) and conversations on social networks (about the party leaders' debates, for example). On the Quebec Election night, April 7, 2014, ICI Radio-Canada.ca recorded the highest traffic in its history with almost 1.2 million visits7, as well as almost half a million responses to the Vote Compass online tool8.
More digital: reaching our audiences on multiple platforms
Throughout the year, the teams from ICI Musique, ICI ARTV, ICI EXPLORA, ICI Radio-Canada.ca, ICI Radio-Canada Télé and
ICI Tou.tv embraced original forms of digital production that boost audience engagement. These included companion web applications for many TV shows (C'est juste de la TV, Chroniques scientifiques de Jean-René Dufort, Dans l'œil du dragon, etc.), webdocs (Jazz Petite-Bourgogne), docu-games (Fort McMoney), e-books (Annie Brocoli, Léon), interactive profiles (100th anniversary of Benjamin Britten), and webseries (Émilie, Disparus, Les Béliers, Les jaunes and Quart de vie). New releases showcased on the ICI Musique web platform included clips of contemporary artists performing renditions of five award-winning songs from years past for the 35th ADISQ music awards, and Arcade Fire's live show from Los Angeles on October 28, 2013.
On March 25, 2014, the new ICI Tou.tv interface went live, offering enhanced free content and new personalization features. Visitors may now pay a monthly subscription fee for the EXTRA premium package for access to more than 400 additional titles (rising to 2,000 within six months) and a full HD-quality experience. Through a partnership with ICI Radio-Canada, Rogers and TELUS offer customers ICI Tou.tv EXTRA content free of charge.
ICI ARTV offered an engaging schedule with both Canadian and international content across all platforms. For example, in December, the ICI.ARTV.ca website premiered the first episode of the BBC/PBS co-production Bienvenue au paradis. Also in December, the second season of the popular Danish series Borgen aired on ICI ARTV over three consecutive days with no commercial breaks, with the third series premiering at the end of February.
CBC/Radio-Canada's multilingual (English, French, Spanish, Arabic and Mandarin) web service RCInet.ca was revamped in late April 2013 as part of the plan announced in 2012 to discontinue Radio Canada International (RCI) shortwave and satellite radio broadcasts to concentrate solely on the web. RCInet.ca's weekly webcasts and interactive in-depth features, as well as its Cybermagazine and social media presence, help audiences discover and better understand Canada's cultural and democratic life and values. One year later, the results are encouraging, with site traffic more than doubling between 2012—2013 and 2013—20149.