Resource Capacity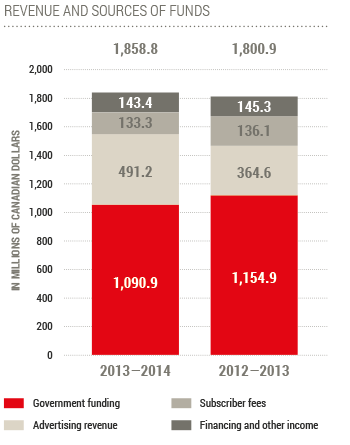 We have four sources of direct funding: government appropriations for operating and capital expenditures, advertising revenue, subscriber fees, and financing and
other income.
For detailed year-to-date variance analysis, see Section 4, Results and Outlook.
Government Funding
For the fiscal year ended March 31, 2014, government funding was approximately 59% of total revenue and sources of funds. This included $111.3 million of amortization of deferred capital funding.
The federal government announced funding reductions in Federal Budget 2012. Our share of this reduction will be $115.0 million annually by 2014—2015. This includes the elimination, over that same period, of the $60.0 million in one-time funding received annually since 2001, which the Corporation used to invest in Canadian programming. For the current fiscal year, parliamentary appropriations received were $23.9 million less than last year. This comprises a decrease of $41.8 million, our share of the funding reductions announced by the federal government in Federal Budget 2012, partly offset by salary inflation funding for 2013—2014, received for the first time since 2009—2010.
A freeze of salary funding has also been confirmed by the government in its most recent Economic Update for fiscal years 2014—2015 and 2015—2016. This means that any salary increases for CBC/Radio-Canada employees will have to be managed through cost reductions in other areas, as management will have to fund approximately $15.0 million per year to provide salary increases of 1.5%.
Advertising Revenue
We generate revenue by selling advertising on our conventional and specialty television broadcasts, on CBC Radio 2 and ICI Musique1 and on other platforms. For the year ended March 31, 2014, advertising revenue accounted for approximately 26% of our total revenue and sources of funds. The proportion of our advertising revenue to our total revenue and sources of funds will decrease, because of the end of CBC's contract with the NHL in June 2014 and a shifting advertising market.
Subscriber fees
Subscriber fees from our specialty services, CBC News Network, documentary, ICI EXPLORA, ICI ARTV and ICI RDI, generated approximately 7% of total revenue and sources of funds for the year ended March 31, 2014.
Financing and Other Income
Financing and other income includes contributions from the Local Programming Improvement Fund (LPIF) and funds received from the Canada Media Fund (CMF). It also includes income from activities such as program sales, rental of mobile broadcasting vehicles to external parties, rental of real estate assets, leasing of space at our transmission sites and merchandising. These sources of income collectively accounted for approximately 8% of total revenue and sources of funds in the current year. Included in these funds were $25.7 million of contributions from the LPIF, which will be eliminated on August 31, 2014.
Capital Budget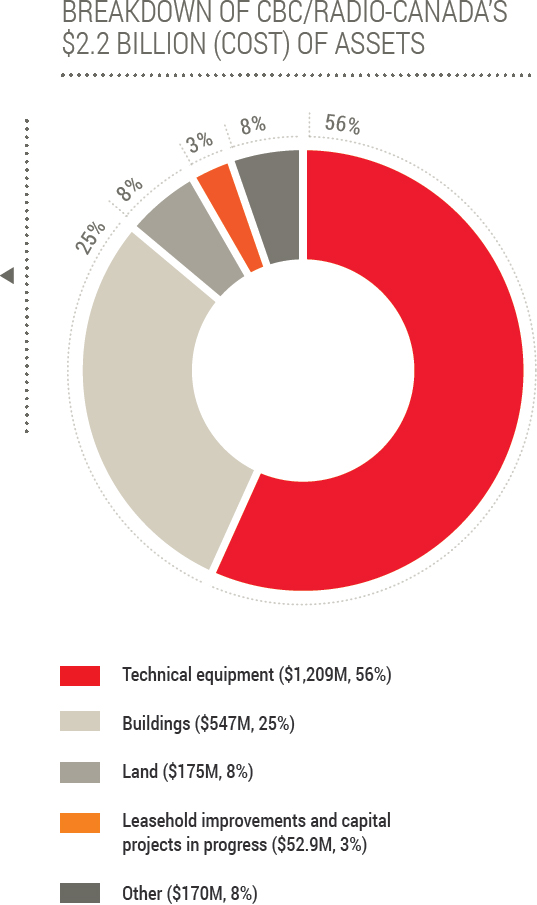 CBC/Radio-Canada has a base capital appropriation from the Government of Canada of $92.3 million per year. For
2013—2014, we augmented this amount with self-generated revenue and by transferring funds from our operating appropriation, for a total of $112.7 million. As required by subsection 54(4) of the Broadcasting Act, we present our capital budget to the Minister of Canadian Heritage and Official Languages in our Corporate Plan and then submit it to the Treasury Board for approval.
We currently use $2.2 billion of assets in our operations. We operate one of the world's largest broadcast transmission and distribution systems, with
549 transmission sites located throughout Canada. During 2012—2013, we shut down our analogue over-the-air television transmission network. In addition to these transmission and distribution-related structures, we are responsible for a real estate portfolio of more than 4.3 million square feet, including 24 buildings owned across Canada. We are also highly dependent on technology and technology-based assets in the production and delivery of our services.
Accordingly, we use the majority of our capital budget in any given year to maintain our assets, address obsolescence and fund strategic projects. In all instances, the capital spending plan supports the attainment of CBC/Radio-Canada's priorities and strategies and is in line with Strategy 2015.
Borrowing Plan
The Broadcasting Act, section 46.1, confers on
CBC/Radio-Canada the authority to borrow up to
$220.0 million, or such greater amount as may be authorized by Parliament, subject to approval of the Minister of Finance. Section 54 (3.1) of the Act requires that our borrowing plan be included in our corporate plan for the approval of the Minister of Finance.
When the Corporation sold long-term accounts receivable in 2009 as part of its Financial Recovery Plan, which addressed the impact of the global economic slowdown and declining television advertising revenue, it provided a guarantee to the investors to obtain the best possible value for selling the receivables. This guarantee was deemed to be borrowing. The outstanding amounts against the borrowing authority are:
(in thousands of Canadian dollars)
Total borrowing authority available:
220,000
Authority used as at March 31, 2014:
Guarantee on accounts receivable monetization
(152,960)
Remaining authority
67,040
However, guidelines established by the Department of Finance limit our borrowing activities to short-term initiatives with a payback period of six years or less. Borrowing to meet working capital purposes is prohibited.
Under the Broadcasting Act, section 47 (1), we are an agent of the Crown and therefore have the constitutional immunities, privileges and prerogatives that are enjoyed by the Crown. The Crown is also fully liable and financially exposed for all our actions and decisions while we are operating within our mandate. In other words, our assets and liabilities are the assets and liabilities of the Government of Canada.